The game had barely started, but it wasn't looking good. They were down a man, and playing one of the best teams in the division. Before the 1st inning ended, they were already down 5-2.
Add a few more innings, and now the score was 11-2, and they were on the side of losing.
They could have given up. They could have just wrapped up the game as a loss. Try harder next time, shake it off and focus on the next one…and all those words of encouragement. But they didn't.
The players kept swinging. Kept trying. Kept going.
The final score was 12-11 and they'd pulled off the WIN.
---
Now, I'm not a sports fanatic or even a big-time fan of sports…and truth be told, there are times I dread sitting on those cold, metal bleachers for what seems like forever.  But there are lessons in every game – lessons in winning and losing. Lessons in perseverance and persistence.
The 12-11 victory last night, was all about grit…digging in and not giving up until the final out.
Lately, I've been feeling stuck, stagnant; a spinning-my-wheels type of feeling. As a small business owner of a woman's boutique, coming up on my 7th year in business, I feel like I should be further along by now. I should be at the point where an unexpected bill shouldn't set off a series of internal panic buttons. I mean, sales have doubled over the past year. The business has earned over 30 awards. I should have this running like a well-oiled machine by now. And yet…
So it's safe to say, I've kinda been wondering what I'm doing wrong. Kinda been wondering if I should go in a different direction. And dare I say, sometimes, I even think of giving up; go back to corporate america and collect vacation days, sick days, personal days, and most importantly…a weekly paycheck.
So the timing of this game was very important. Crucial actually.
At first I couldn't quite grasp why the win had such an impact on me. I mean, c'mon, it's just a game.
Then I realized it wasn't just about the game. The struggle, the losing…the digging deep and coming back for the win… It was exactly what I needed, to be slapped back to reality.
Kinda like the scene in "Moonstruck"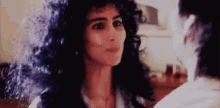 And I decided it was all worth it – for all the struggles, there have been immeasurable successes. For all the worries, there have been wins.
Yes, it gets overwhelming. Yes, sometimes I feel like giving up — but like my boys, like that team, I am no quitter.
So I too will dig deep, adjust my stance, and keep my eye on the ball. And most importantly, set an example for my children.
Challenges will arise. At times, it will seem hopeless. But if you choose to rise from a fall, if you choose to stand in the face of adversity, follow your passion, your aspirations and dreams, you truly can accomplish anything.
It just takes a little guts and grit.